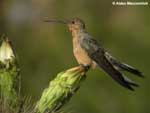 Weighing a whopping 24 grams, Patagona gigas (the giant hummingbird) is the largest species of hummingbird on the planet. Hummingbirds (Aves: Trochilidae; see also Eutoxeres aquila) are the smallest birds (some weigh as little as 2 grams), and they have the largest heart relative to body size of all endothermic vertebrates (Johnsgard, 1983). The genus Patagona is monospecific, however two subspecies are commonly recognized: P. gigas peruviana and P. g. gigas. Although there is no sexual dimorphism exhibited by P. gigas, morphometric measurements cleanly separate the two subspecies (Sánchez Osés, 2003), and they are geographically isolated as well.
The distribution of the giant hummingbird extends from southern Colombia and northern Ecuador to central western Argentina (Sánchez Osés, 2003). Patagona gigas gigas migrates to northwestern Argentina from the central western region of that country in the winter, but migration of P. g. peruviana has yet to be reported (Sánchez Osés, 2003).
Patagona gigas is diagnosed by its large size relative to other hummingbird species, a straight and stout bill that is longer than the head, a long and forked tail, and tarsi feathered to the toes. The overall coloration of P. gigas is dull in both sexes, although individuals possess bluish feathers bordered in brownish white on the head, and the upper tail coverts have a bluish olive-gree hue (Sánchez Osés, 2003).
Patagona hovers during feeding, and the species serves as a major pollinator of the bromeliad plant Puya coerulea in central Chile. This plant is dependent on the hummingbird, and nectar robbing by the austral blackbird, Curateus curateus, leads to a decrease in plant fitness by decreasing the number of visits to inflorescences by the giant hummingbird (González-Gómez and Valdivia, 2005).
The giant hummingbird also serves as a laboratory animal for many physiological studies (e.g., Altshuler and Dudley, 2003; Dudley, 2001). Patagona gigas is capable of hovering at elevations near 4,000 m, and it can lift 140% of its body weight at these elevations (Dudley, 2001).
Additional Information on the Skull

Click on the thumbnails below for labeled images of the skull in standard anatomical views.
Literature
Altshuler, D. L. and R. Dudley. 2003. Kinematics of hovering hummingbird flights along simulated and natural elevational gradients. The Journal of Experimental Biology 206:3139-3147.
Dudley, R. 2001. Limits to human locomotor performance: phylogenetic origins and comparative perspectives. The Journal of Experimental Biology 204:3235-3240.
González-Gómez, P. L., and C. E. Valdivia. 2005. Direct and indirect effects of nectar robbing on the pollinating behavior of Patagona gigas (Trochilidae). Biotropica 37:693-696.
Johnsgard, P. A. 1983. The hummingbirds of North America. Smithsonian Institution Press, Washington, D.C., 303 pp.
Sánchez Osés, C. 2003. Taxonomy, phylogeny, and biogeography of the Andean hummingbird genera Coeligena Lesson, 1832; Pterophanes Gould, 1849; Ensifera Lesson, 1843; and Patagona Gray, 1840 (Aves: Trochilidae). Ph.D. Dissertation, Rheinischen Friedrich-Wilhelms-Universität Bonn, 282 pp.
Links
Patagona gigas pictures from the Hummingbird Society
P. gigas factsheet from BirdLife International